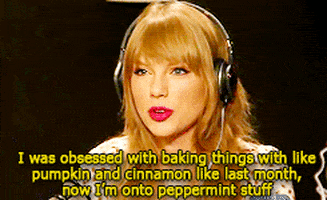 Just in time for the holidays, I thought I'd share a recipe inspired by none other than Taylor Swift.
Taylor made these for her 1989 Secret Sessions a few years ago. I found a recipe for them here that will hopefully do them justice.
Yield: 12 cookies
Ingredients:
1/2 cup (1 stick) unsalted butter, softened
3/4 cup sugar
1 egg
1/4 tsp natural peppermint extract
1 1/4 cup unbleached all purpose flour (or whole wheat pastry)
1/3 cup cocoa powder
1/4 tsp salt
1/2 tsp baking soda
1/4 tsp baking powder
1 candy cane, finely crushed
1/3 cup dark, bittersweet or semisweet chocolate chips
Directions:
Preheat oven to 350 degrees F.
In a large bowl, cream the butter and sugar together for about 1-2 minutes. Add egg, peppermint extract and beat until light and fluffy, scraping down the sides as you go to ensure even mixing.
Add flour, salt, cocoa powder, baking soda and powder to a sifter and sift gradually over the wet ingredients mixing as you go. Mix until well combined.
Add chocolate chips and stir in with a mixing spoon and then chill in the freezer for 10 minutes while the oven finishes heating.
Form the dough into small balls (heaping 1 Tbsp) and place 1.5 inches apart on an ungreased or parchment-lined baking sheet. Press the tops down and then top with a few more chocolate chips (to indicate what's inside).
Bake for 10-12 minutes – the edges should start to dry but the tops will still be slightly soft looking. Let set on the cookie sheet for a few minutes more but sprinkle crushed candy cane on immediately.
Transfer to a cooling rack to rest until completely cooled. Store in an airtight container to keep fresh for up to a few days or freeze for several weeks.
Source: Minimalist Baker
If you think those are amazing, check out some of Taylor's other cookie recipes like Chai Sugar Cookies with Cinnamon Egg Nog Icing, or Pumpkin Chocolate Chip Cookies.
xoxo,